Sahara camel trekking tour 6 days
Sahara camel trekking tour 6 days : "Erg, regs, dunes, oasis, hamadas, palm groves, your Morocco camel trekking tour will make you discover so many varied landscapes, imbued with the charm of the Sahara. Immerse yourself in the infinite silence, browse the golden dunes, admire the sunset and the stars, meditate, sing around the fire, enjoy all the little moments of happiness that the Morocco desert trek will offer you! "
Camel trek Morocco: what to take? The equipment needed for a Morocco desert trek is very similar to the classic equipment for trekking. Comfortable shoes, backpack, sleeping bag… with a few differences: temperatures in the desert are high, so you need to cover you well to protect yourself from the sun. You must put long clothes and a traditional turban on your head. The nomads who will accompany you will show you the different ways to tie it.
Morocco wild desert camp during the camel trekking tour
The Sahara camp allows you to spend the night in the desert. During the Morocco camel trekking tour, you will enjoy overnights in a wild camping in the Sahara. We provide the necessary equipment for the wild camp : tents, blankets, …).
M'hamid Erg Bougarn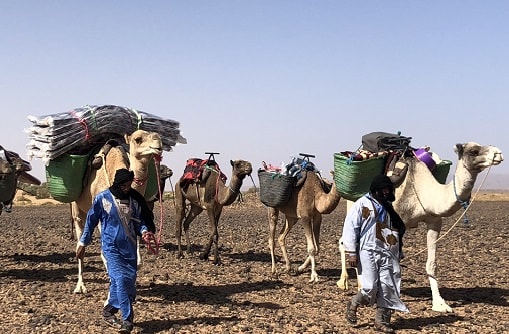 This camel trekking tour program will make you discover Erg Bougarn, Erg Smar, Erg Zahar. The 6-day Sahara tour from M'hamid is an authentic trip to the desert. Adventure, desert experience… Enjoy every moment of your Morocco camel trek and Sahara stay.
Zagora Erg Chigaga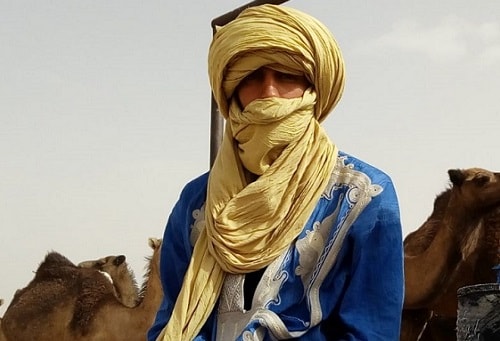 This Morocco camel trekking program is from Zagora. You will enjoy a 6-day camel trek in the Sahara until the Erg Chigaga great dunes. Camel excursion tour from Zagora, wild camping overnights in the desert.