Sahara desert tour Ouarzazate Merzouga 3 days
Sahara desert tour Ouarzazate – Morocco desert tour – Ouarzazate camel tour – Sahara desert trip 3 days – Merzouga desert from Ouarzazate – Ouarzazate to Erg Chebbi tour

Discovery of the Morocco desert

Sahara camel ride

Visit South Morocco

Night in the Merzouga desert
Morocco desert tour from Ouarzazate to Merzouga 3 days
Sahara desert tour Ouarzazate – Morocco desert trip – Private tour Morocco – South Morocco tour – Morocco tour for 3 days. Camel trip Morocco – Visit Merzouga
Day 1
Desert tour from Ouarzazate : visit of Dades Gorges and Toudra Gorges
Your Sahara desert tour from Ouarzazate begins with the visit of the Dades Gorges and the Toudra Gorges (located in the High Atlas). Departure in 4X4 in the morning with your guide. You will join the trail of a part of the Rose Valley to arrive at the Dades Gorges.
After the visit of the Dades Gorges, you go for a walk in the valley of Boulmane Dades which extends for 25km. Your Sahara desert tour will also take you to the Todra Gorges. Dinner and overnight at Toudra Gorges.
Day 2
From Todra Gorges to the great dunes of Eg Chebbi, Merzouga
Visit the Gorges du Todra on the morning of the second day of the Morocco desert tour from Ouarzazate.
You take the 4X4 to go to Merzouga. Lunch is planned in the city of Erfoud. Then your Ouarzazate desert trip to Merzouga continues. You will go through the beautiful Ziz Valley. Arrival in Erg Chebbi (Merzouga) in the afternoon.
You enjoy a camel ride about 1h30 – 2h and an unforgettable sunset on the Erg Chebbi dunes. You can climb on the dunes, do a sandboarding activity or quad biking in Merzouga.
Dinner and overnight in a Merzouga desert camp. You will spend the night in a real nomadic camp in the Sahara.
Day 3
Sahara desert tour Ouarzazate – back by the Drâa Valley and the Oasis of Fint
After breakfast, your Sahara desert tour Ouarzazate to Merzouga continues with the visit of the cities of Rissani and N'kob.
You continue to Tamnougalte. The ksar of Tamnougalt has a particular charm because of its kasbahs. Stop at Tamnougalt to visit the ksar and discover the typical architecture of South Morocco. You can enjoy a unique view on the palm grove from the Kasbahs.
After lunch in Tamnougalt, you resume your Ouarzazate Sahara desert trip. You will continue to climb on the road to the Anti Atlas.
Before return to Ouarzazate, a visit to the Fint Oasis is planned. Immerse you into an exotic atmosphere in the oasis.
Erg Chebbi: 3-day Sahara tour from Ouarzazate
The best of this Morocco desert trip:
you enjoy a private Sahara trip in 4X4,
you visit the Dades and the Todra Gorges,
you can try 1 hour climbing at Todra Gorges with a professional guide,
discovery of the most beautiful dunes in Morocco: Erg Chebbi (Merzouga),
you enjoy a camel ride for the sunset in Erg Chebbi,
overnight in a Morocco Sahara desert camp at Merzouga,
back to Ouarzazate by the Draa Valley,
visit of the Oasis of Fint, near to Ouarzazate;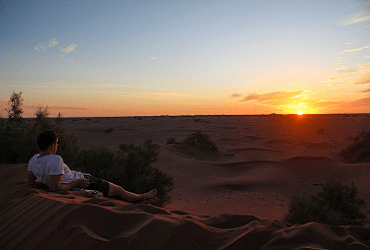 Activities for your Morocco Sahara excursion
Todra Gorges: It is possible to organize a climbing activity on the Todra Gorges where you spend your first overnight. This activity is practiced with a professional guide. The equipment is provided.
Erg Chebbi: At Erg Chebbi, you can do a quad biking or a buggy riding. Also, a sandboarding activity could be scheduled.
Interested by this Morocco desert tour?
GALLERY PHOTOS