Night in the Sahara desert
Night Sahara desert – Morocco desert camp – M'hamid desert camp – Sahara camping Morocco – Sahara overnight – Morocco Sahara accomodation – glamping Morocco – luxury desert camp Morocco

Morocco desert experience

Morocco Sahara desert camp

Camel ride

Desert camp M'hamid
Night in the Sahara desert
Morocco desert overnight – Nomadic camp Mhamid – Sahara desert camping 
Holidays in Morocco: plan a night in the Sahara desert
Spend a night in the Sahara allows you to enjoy a Morocco desert experience in a nomadic camp.
At your arrival in our M'hamid desert camp, you will take the traditional tea with your hosts. Then you can have a moment of relaxation, or walk around the camp on the sand dunes.
In the evening, enjoy the sunset in the desert. Diner and time around a campfire. You will also discover the Sahrawi music.
Overnight in nomadic tent. 
Morocco desert camp stay: what to do ?
Those who wish can also enjoy various activities during their Sahara desert camp stay – camel ride, a 4X4 excursion to Erg Chegaga, camel trekking tour … Do you prefer desert adventure, relaxing or enjoy workshops?
You can opt for a cooking workshop, a percussion workshop, visit of local cooperatives, yoga workshop, …
Experience also the Morocco camel trekking!
If you spend a day or two in the desert, nothing better to do a Sahara camel trekking tour. The Sahrawis nomads will be happy to show you their home – the desert – during the hike. It's possible to do a Morocco camel trek for a day or two days. You don't need much time to experience this Sahara adventure trip!
It is possible to personalize your Morocco desert overnight stay with Morocco desert excursions. If you need any ideas or advice, do not hesitate to contact us!
Interested by overnight Morocco desert camp ?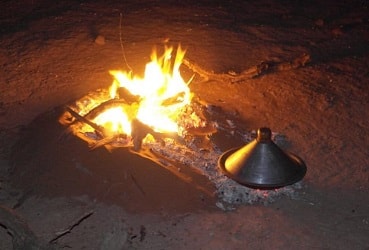 Morocco desert camp: a night in the Sahara
You can walk all around the Sahara desert camp to enjoy the beautiful panoramic view,
Admire sunset on the dunes,
Enjoy traditional Saharawi music around a campfire,
Overnight in a nomadic tent, you can also sleep in the desert, under the stars.
Adventure in Morocco
The overnight in the Sahara is an authentic desert experience. Enjoy the Morocco desert camp atmosphere. This accommodation in the Sahara is special: your hosts are the Sahrawis nomads. The simplicity at the Sahara camp is an excellent way to test a new connexion with nature.
GALLERY PHOTOS